Measurement and quantification serve as the initial step in strategic management and maximizing outcomes. Peter Drucker, an Austrian-American management consultant and often referred to as "the founder of modern management," famously stated, "If you can't measure it, you can't improve it."
SENRI adheres to these principles and provides various quantifications for sales managers. Here are the methods we employ:
1.Basic methods with SENRI's activity report
We monitor the number of visits and quantify the efforts made, ensuring the elimination of fraud and cheating through robust GPS verification of visits. In addition to monitoring sales amounts, SENRI also tracks the number of visits. While top-performing sales staff naturally yield positive sales outcomes, we believe in supporting those who may not achieve their targets.
It is crucial for sales managers to understand the context and reasons behind such situations. Do these staff members fail to engage with customers during their visits? Are they actually visiting customers at all? Or perhaps they are capable of meeting customers but need further development in their communication and sales skills. Each of these scenarios requires a distinct course of action.
SENRI can collaborate with sales managers to quantify verified visits and provide tailored guidance to individual sales staff.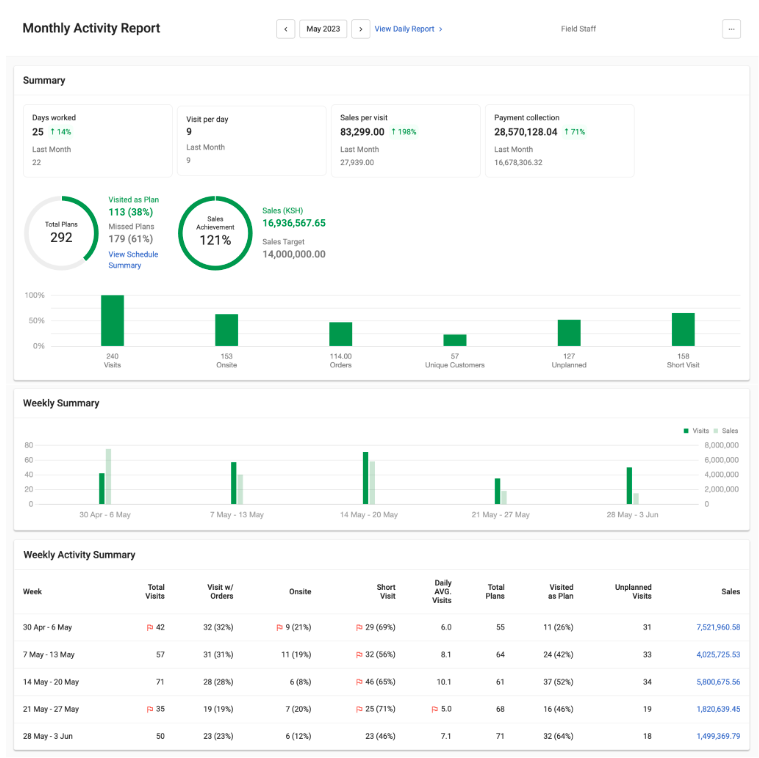 2.Advanced methods with SENRI's activity report
SENRI's activity report goes beyond the number of visits and offers additional measurements that allow our clients to grasp the performance of their sales staff more comprehensively.
A. Monitoring the duration of visits and distance traveled
SENRI can measure the time spent and distance covered by sales staff for each outlet. We can also raise alerts in cases of excessively short visits or when the distance traveled deviates significantly. Managers can monitor the total distance covered as an indication of coverage and the distance between visits.
B. Clocking in and out to monitor working hours
SENRI can mark the first and last visit of the day. Some companies set specific times for the first visit, and field staff are required to report if they miss the designated time.
C. Monitoring the ratio of visits to new and existing customers
SENRI can differentiate visits made to newly acquired customers versus existing customers and provide corresponding ratios. Some managers set specific percentage targets for new customer acquisition and monitor progress towards those targets.
3.Impact on the sales team
Introducing SENRI can lead to a significant increase in the number of visits, typically ranging from 18% to 22%. The impact is particularly high when linking these measurements with targets and incentives.
For instance, let's consider an FMCG company in Nigeria. The manager monitors the number of visits every week, and staff members are eligible for weekly incentives only if they meet the required number of visits during business days. As a result, the company has experienced a drastic improvement in the number of visits, as depicted in the graph below.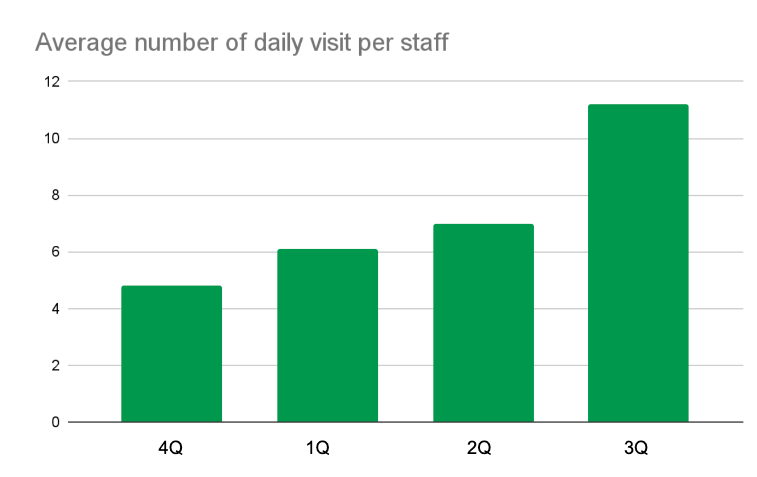 4.Testimonials from SASO industries – Nigeria
With the implementation of the SENRI software, SASO has been able to expand their reach and track their sales reps a lot better. With the Visit Report function, managers are able to track the number of visits made by the sales representatives and the location of the customers who are signed on by the salespersons.
The most and least effective team members can be easily identified, making it possible for managers to know the best sales representatives for their teams and to set incentives that motivate team members.
Please schedule a demo with us to learn more about how SENRI can help you achieve these benefits.