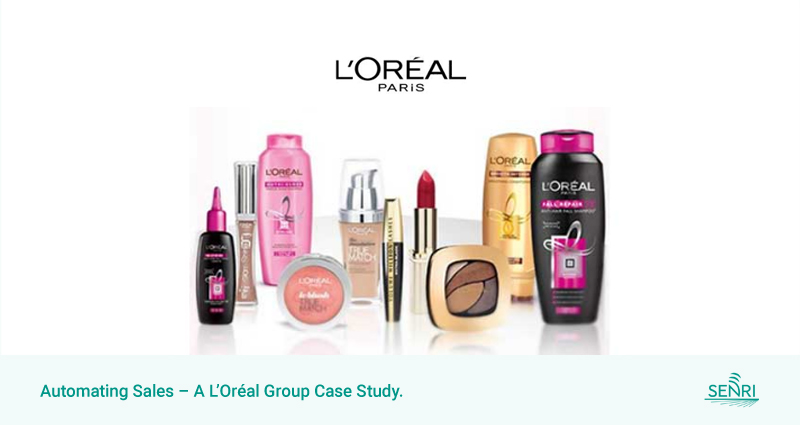 In an effort to strengthen its global reach and attain its target of reaching out to 1 Billion new customers, L'Oréal has found great potential in the African market. In this regard, the group created zone specific structures for the African market in 2011, with a plant in South Africa and Kenya. With a keen eye on research and innovation as part of its development strategy, market – specific intelligence is central in developing cosmetics that meet the continent's assorted beauty needs and wishes.
L'Oréal group acquired Interbeauty – A market leader in skin care products held by Interconsumer Products Ltd., and other brands including Softsheen Carson Brands, Dark and Lovely, and Magic blue Ice, broadening their market base. Reaching out to these clienteles, the group adopted a sales model that would include engaging exclusive distributors and supermarkets with a sales representative attached to every distributor, each of them deploying 3 modes of operation:
Presales – Sales people picking orders and sending them to the distributor they are attached to for delivery.
Professional Product Division – that would distribute products to salons worldwide.
Van Sales – Sales persons leave with stock in vans then reconcile stock after a specified period of time.
Challenges Before SENRI Implementation
The groups' market success and acquisitions destined an increased client base, and this posed interesting challenges on the distribution model L'Oréal had adopted. The salesmen attached to distributors were mandatorily required to report their daily leads and activities between 3 and 4 PM; an exercise that would run through 8 PM, to one receiver at the office for processing. Receiving all the orders in one go was a concerning challenge for the salespersons and the company. Manifest challenges resulted, among them;
Orders were guaranteed processing only after being received – that meant they would be processed the subsequent day.
Sales men and office workers ended up working late into the night due to the necessity of receiving and processing orders.
Order reception and processing was overwhelming to both sales persons and office staff resulting from the chunk of orders that needed processing at the same time.
Inability to attend to all sales persons at their reporting time owing to the limitation of having one receiver at the office.
To this end, this process was mistake-prone. Besides staff taking time off working hours to relay daily leads and activities, order processing was delayed often. Receiving such daily reports was a crucial process for L'Oréal group due to its desire to design products that resonate with the local market. Market reports were essential in aiding product design decisions.
The Leap after SENRI Integration
The vast array of challenges the group was facing in in its distributorship record keeping, order processing, and sales activity monitoring needed a real-time relay of reports from the field that would provide adequate intelligence, as well as immediate processing of orders. SENRI would not offer any less. Since its adoption into the L'Oréal group's sales and reporting process in November 2018;
L'Oréal and its distributors know where their salespersons are and what they are doing during working hours.
Orders are received in seconds from the field facilitating immediate processing.
One staff at the office is able to attend to all field staff easily.
Orders are now processed on an as-they-come basis.
Office hours for the sales staff has been reduced to 5 PM – There is no more calling to parse orders to the office.
Data is tabulated both quantitatively and qualitatively making its analysis easy.
Both orders and field reports are received immediately facilitating immediate action.
L'Oréal group now knows where their customers are and what they need.
Distributors are able to set routes for their sales persons.
Van stock reconciliation is done as soon as a sale is made on SENRI.
Mapping customer locations, especially, has given the L'Oréal group unmatched intelligence on the areas to target in order to attain the 1 Billion new customer target. Besides, the challenge of not having enough information on what the distributors were doing, or what the salesmen were selling, to who they were selling it to; their daily route plans and their exact locations during working hours, all this information is relayed to L'Oréal in real time. Salespersons and Merchandisers are able to send timely reports including an image, where necessary. These reports are analyzed individually or tabulated for easy decision making.
SENRI provides amazing back-end functionalities which are made robust by a powerful UI that is easy to use. "Data is now at the tips of our fingers; we are only left with the decision-making process. We know where our sales people are, and what they are doing. They have indulged more in visiting new customers rather than sending reports via call to the office. We know what our distributors are doing and what each of them is selling more than the other, and to which areas they are distributing such. Intel has been reduced to numbers easing the decision-making processes for us, and our stakeholders. There is an unimaginable array of benefits here", Said their Operations Director. L'Oréal started using SENRI in such a way that they almost adopted the company's customer support team. They Customer support team from Africa Incubator Limited checks in and offers support on a daily basis – Making them part of the whole team, each day. Every day. Loreal has identified where they are, and what they need!